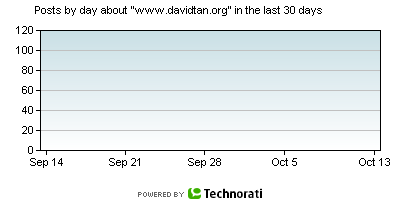 Technorati is one of the biggest blog search engine online and it's always good to have some traffic coming from Technorati. It shows that people are searching and visited your site for what you've written. Technorati now can generate a graph that shows how many incoming links they have sent to your site.
How to get technorati incoming traffic graph
You can get the graph by going to:
http://www.technorati.com/chartimg?q=www.davidtan.org&days=30&width=400&height=200&type=url
1. Change davidtan.org to your site/blog/forum sitename
2. Change number of days to something in between 0-365 (a year)
3. change the width and height to suit your need
My 2 Cents
1. Too bad you can't see anything on the chart yet. DavidTan.org has just been started for 3 days. But I'm sure it will get more ink on it one day.
2. The graph doesn't actually shows you what terms was used in the incoming links. I'm sure that kind of data will be even more handy.
3. Did you made one too? Show us 🙂