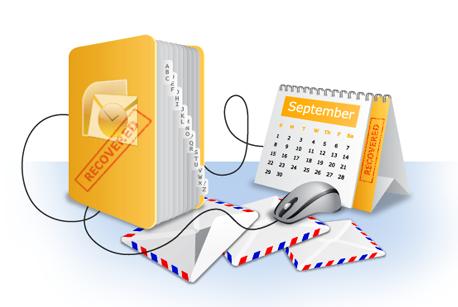 If you are using Office 2007 then you will probably need to enable the Outlook URL protocol handler so that hyperlinks to mail messages, contacts, events, etc work. It was initialized by default in previos versions of Outlook, not sure why they left this out in Outlook 2007.
To enable the outlook: protocol in Outlook 2007, you need to do some editing (adding new keys in fact) in the registry. You simple need to create these registry keys:

# HKEY_CLASSES_ROOT
        * outlook
          (Default) = URL:Outlook Folders
          URL Protocol= ""
              o DefaultIcon
                (Default) = "C:\PROGRA~1\<strong>MICROS~2</strong>\OFFICE12\OUTLLIB.DLL,-9403"
              o shell
                    + open
                          # command
                            (Default) = "C:\PROGRA~1\<strong>MICROS~2</strong>\OFFICE12\OUTLOOK.EXE" /select "%1"

Please note that you might need to change MICROS~2 to MICROS~1, MICROS~3, MICROS~5 etc depending on how many Microsoft's product you have on your computer.
Here's a zipped file of a registry file which can do this for you. Download Here.
1. Unzip it and you will get a outlook.reg file.
2. Open outlook.reg in a text editor such as notepad and check if the C:\\PROGRA~1\\MICROS~3\\OFFICE12\\ part resembles the right path to outlook on your machine. If not edit it and save the file.
3. Double click on outlook.reg to save the settings into registry.
There you have it 🙂