I just found out about overdrive and loving it. I can borrow ebooks from my library and can read in on my windows laptop/dekstop (using ADE) and mobile (android + ios). I did encountered a problem though, whereby books I've downloaded and works fine on my windows 7 Adobe Digital Edition (ADE), fails to work on overdrive mobile app. Here I share the experience and what i did to fix it.

Here are the sequences of the events:
1. I've previously installed ADE on my windows 7 laptop, but wasn't using it (or may i say know how to use it properly, more info below).
2. Browse to my library's digital collection (which uses overdrive) and borrowed a few ebooks, downloaded them as epub and was able to open and read them using ADE.
3. Downloaded the overdrive mobile app, registered for an overdrive account id, signed in, browse to my bookshelves and found nothing in there.
Confusion 1
To think that books that have been borrowed and downloaded into ADE will magically appear in the overdrive mobile app bookshelves. That won't happen if you're using windows 7 and ADE. I read that windows 8 can do it but haven't tried that yet.
4. In the overdrive mobile app, browse and sign-in into my library, goto the library bookshelves and i can see a list of the books that I've borrowed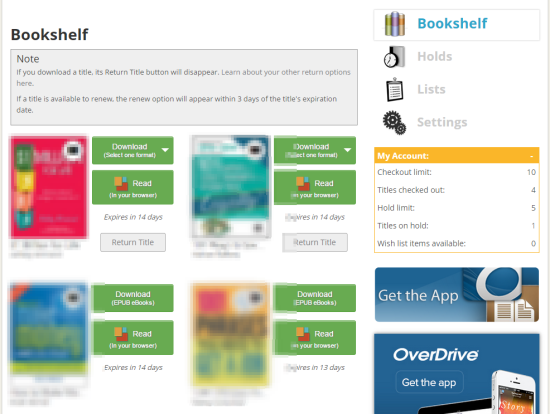 However, when i try to download a book, it will say that it has been checked out by a different account id (i found out later that's because the book was tied to my "adobe id" and i was logging in using my "overdrive id")
Moment of truth
ADE has this so DRM thingy call "authorization" and in ADE. You can check if your computer is already authorized in ADE > Help > Authorization Information…
If that menu is disabled, it means you haven't authorize before.
For some reason, in my case, I've 2 ID, one for overdrive and the other "adobe id"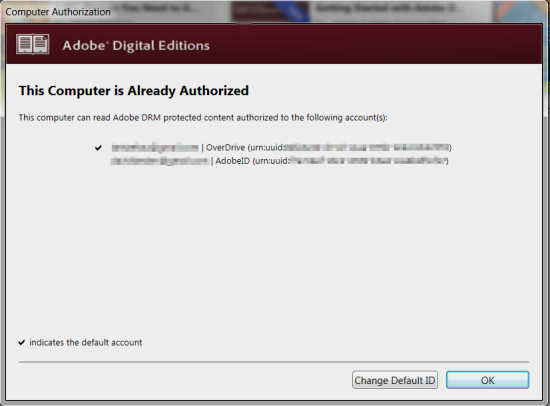 Long story short, books that i've previously downloaded and opened in ADE were tied to my adobe id, so when i tried to download them using my "overdrive id" in the mobile app, it failed.
To check which id the book is tied to, right click on the book in ADE and select Item Info. You will see which id is being used under "licensed to"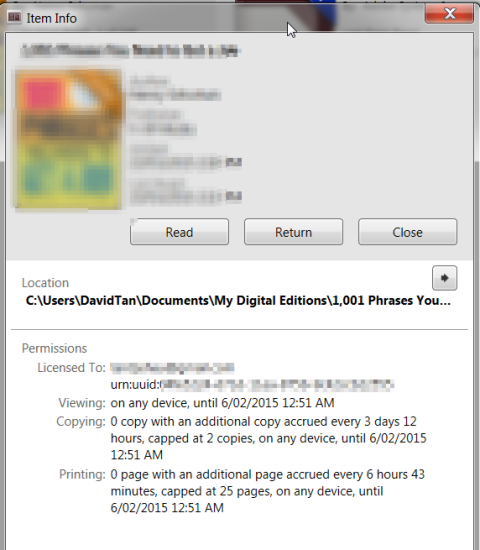 So if the id the book is "licensed to" isn't the one that you're using to login into overdrive, you have a problem as mentioned above.
It's an easy fix, here's how:
1. In ADE, return the book (look at the above screenshot, Item Info > Return)
2. If you haven't already, register for an overdrive account login. Go to ADE > Help > Authorize Computer and fill in blanks and make sure you select "overdrive" as the content provider.
2. Check ADE > Help > Authorization Information and make sure that the overdrive id is being used as the default id. If not, click on the "Change Default ID" button and do so.
3. Search, borrow and download the same book again in you library's overdrive. Open the downloaded *.acsm file in ADE and check the item info to make sure that it's tied to your overdrive id.
4. Now finally, in your overdrive mobile app, login using your overdrive id, login to your library, go to your library account bookshelves and download those books again. This time you won't get the dreaded "ebook has been checked-out by a different id" message anymore.
Recap, for all this to work:
Use overdrive id for authorization in ADE, and remember to login using the same overdrive id when using the mobile app. Technically, you won't even need an "adobe id" (which I've seen caused lots of confusion with other users).
Hope this helps and happy reading!