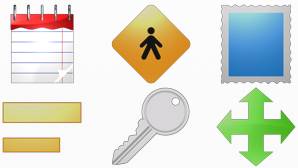 Presentations are meant to be presentable, fun and interesting. Apart from using the appropriate colours, fonts and theme, why not try putting some eye candy to your presentations?
Here's a collection of 100 free presentable pictures and icons that can help you liven up your presentations. The background of all objects is transparent and can be used on any colored background. Each object can be changed in size, rotated, increased or decreased in opacity, fitted with shadows or even overlapped with one another to create extra effects. Keynote Objects are compatible with Keynote, iWeb, Pages, Microsoft PowerPoint and Word.



Note that the downloaded file is in packed into a .dmg file. For those who are not familiar with .dmg files, please read my post on how to open, extract or convert dmg files to iso files.
via ipresentee