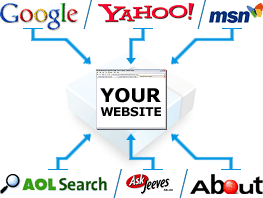 Want to bring more visitors to your website? Here are tips that you can use to increase web traffic to your blog, website or forums.

1. Answer questions on Yahoo Answers. Just ask yourself, how many times have you search for something online and got back a search result that comes from Yahoo Answers?
2. Write articles and submit to article directories. Great for backlinks and gaining authority.
3. Participate in other fourms that targets your specfic niche and post your web address in your signature.
4. Start a mailing list or at least allow people to subscribe through RSS.
5. Attend trade shows and events related to your niche and connect with people, and don't forget to mention your website!
6. Build something useful that other people will find useful. Word of mouth is the best marketing ever.