I had been looking for a forum software to play with this morning and can't really decide which one to choose. The choices are pretty obvious from the title of this post but here are just some personal comments about the things that I know about.

Paid BBS/Forum Software
VBulletin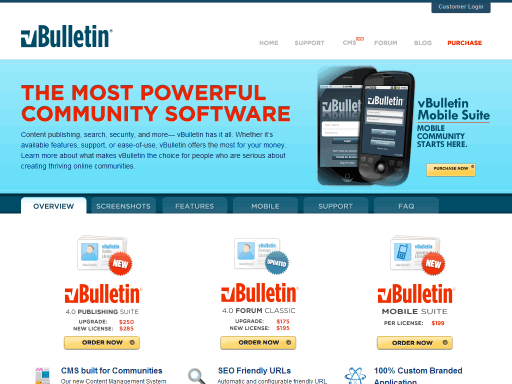 VBulletin is simply the big daddy of bbs/forum software out there used by most popular boards. It does comes with a monthly/yearly cost depending on which licensing option you choose to buy. The VBulletin community has built tons of mods and support is good. If you have the money to spare, this should be a good investment.
Invision Power Board (IPB)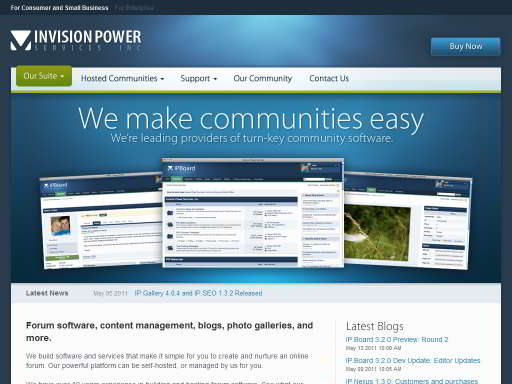 IPB deserves a mention since it's the next popular forum software which cost a fee to use it. From what I've read so far, IPB forum owners aren't very happy with it and consider the admin section a mess.
Free and Open Source BBS/Forum Software
phpBB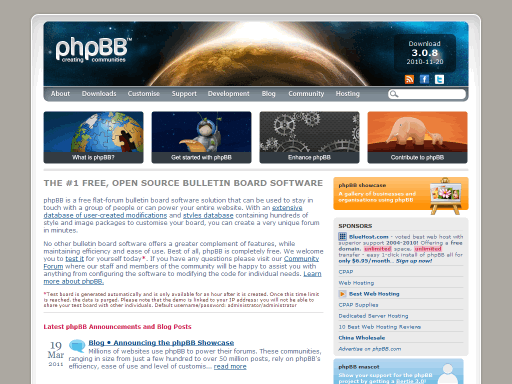 PHPBB, currently at version 3, is said to have improved functionality, admin sections and in particular enhanced security. phpBB v2 was highly targetted by hackers at one time due to exploits in their source code. Correct me if I'm wrong, but it's said that phpBB still doesn't have attachments and sub-forums available and you would still need to use mods to achieve that. Attachments and sub forums are readily supported out of the box in v3 as pointed out by Stan in this comment.
SMF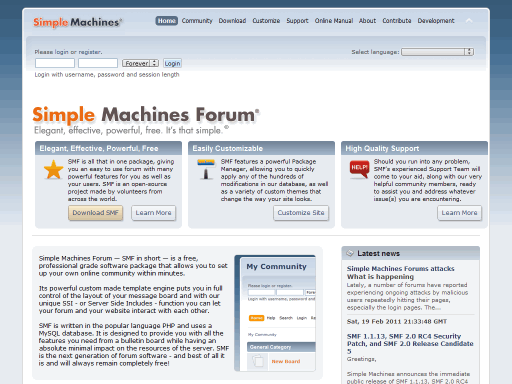 SMF is another open source forum software which had eveloved from YaBB. I had the opportunity to use it last year and found it having most of the features that I want (including attachments and sub forums out of the box). Mods can be installed easily and be reverted back to a certain stage if you decided that you won't use it anymore.
The bad thing about it is that most mods are written for the default theme so if you're using a custom theme, good luck as you will need to look through the code and do some manual tweaking to get a mod working in your custom theme. I also hate the fact that the themes are still using Smartly-like template tags which can be a show-stopper for those who came from a pure (x)html/css background.
Besides, some mods don't even play nice with each other, and once they are installed side by side, it can be too late for you to disable the mod and revert back to a previous state before the mod was installed. This was really what frustrated me. If I had to do it again, my advice would be to use everything out of the box and just let the forum grow before doing anything fancy.
Vanilla Forums

Vanilla is probably not as famous as the other flavors but the most attractive feature that I've found about it is its ease of use and configurations. It's not as bloated as the others but that might also be a shortcoming for owners/moderators who want more control and options. I've also found that it's the easiest to install and uninstall new mods and themes without facing any problems at all before (unlike SMF).
bbpress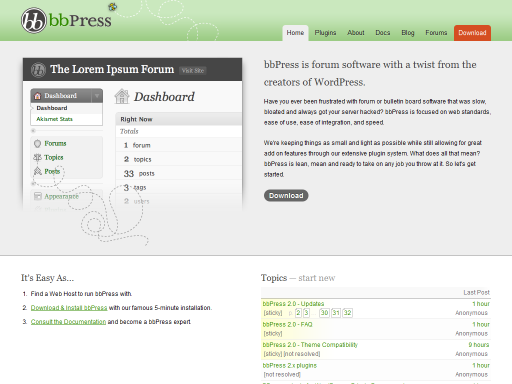 bbPress is released by Automatic, who brought us the popular blogging platform WordPress. It's dead simple, fast and elegant and is used by wordpress support forums, technorati support and 9rules notes with huge user base and huge daily traffic.
As a side note, I would say one shouldn't think that a good forum software will build you a good forum community. A good forum software is just a start and don't forget it's actually the admin and moderating team who are the ones that will be putting in the intial effort to build an active community. Not even the best software can help you build the community if you don't have a dedicated team of people to stay in it for the long term.
* Oh, did I mention that all of the above forums software are driven by PHP and MySQL?!