Twitter is real time, powered by people who write what's happening around them and things that are on their mind currently. A popular trend on twitter usually tells a lot of story and you can use these information for marketing purposes or just for personal satisfaction.
Here are a few tools that you can utilise to follow what's hot and popular on twitter.

Twitter Trending Topics

Laid out wide and open on twitter's own sidebar is the "twitter trending topics". If you use twitter, chances are you're already aware of this.
Monitter

Monitter is a twitter monitor and it lets you "monitter" the twitter world for a set of keywords and watch what people are saying. Start by typing in three words into the three search boxes and within seconds you'll start seeing relevant tweets streaming live.
Twitscoop

Twitscoop allows you to receive, send tweets, and find new friends instantly, without ever reloading your page and comes with a neat "hot trends" interface that tracks all buzzing keywords on twitter in real time.
BingTweets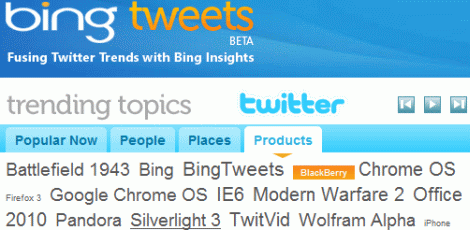 The new Microsoft search engine Bing decides to do some magic with Tweets and came up with BingTweets. Trending topics are currently categorized into 4 tabs namely "Popular Now", "Poeple", "Places" and "Products".