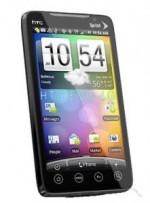 It's official. EVO 4G, HTC's latest android phone, will have Sprint as its carrier partner. The phone features a wide screen display, making it easy to handle and gives you much wanted breathing space whilst making use of the software QWERTY keyboard. Sporting trendy features, the phone has a neat design, is lightweight and easily fits into the hand. The phone is excellent. It runs on the Android – one of the most talked about mobile platforms in recent times.

The phone is sleek, trendy and looks really cool in its all black ensemble. The framework looks really streamlined – with nice edges and looks clean – nice edges and a good aesthetics gives the device a nice, friendly feel.
HTC EVO 4G Features + Hardware Specs
The GUI is the standard, Android based UI design with cool buttons and great themes. The HTC EVO 4G comes with a 4.2 inch widescreen display unit giving a maximum resolution of 800 x 480 pixels. The display is capacitative, meaning the device is decked with a touchscreen monitor-like display. The best part is that the multitouch feature which has been a part of recent HTC devices has also been incorporated into this model. Comparing this gizmo with the Nexus One, one finds that the display's length has been increased considerably. The phone will certainly make waves when it is released like the nexus one. This is the first phone in 2010 to make use of the new 4G technology framework. It will be sprints numero uno – the only 4G enabled mobile device so far to come out with Sprint's carrier services.
Embellished with a back panel 8 megapixel camera, the phone is capable of recording high quality video at 720 pixels. It also captures high def. images(JPEG,PNG formats). A front panel camera is also present in the device. The device runs on a snapdragon chip and comes with HDMI, WiFi and microSD support.