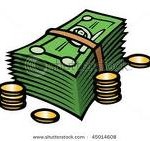 I don't really buy into the idea that there's anything known as "free money". No matter what people had told me about, there's only one general truth in my head which I believe is true. Let me explain.
1. You either work for yourself, others or even worse not working. No matter what the story is, you still have to put in some input and effort as in time, energy, brain power, or physical power in order to get a good outcome which would possibly be good money in this context. In the long term, you would probably want to earn and invest in hope to gain more return from your money.
2. So if everyone is working hard and smart to earn their share, ask yourself: "Why and who will be going to give you free money?"
3. There are lots of ebooks and seminars which do their marketing campaign through saying that they know "the secret". Well, they are actually weeks/months/years of hard work, and if you want to know "the secret", you will be going to pay money (or sometime a fortune) to get it. But ask yourself, what do you do after you get to know "the secret"? Some people might already have the ingredients but all they are lacking is the time, determination and hard work to realize them. Other people can only show you the door, but you still have to walk through it, right?
4. Few companies offer paid surveys, where some people will tell you they can earn you good money (I never tried them anyway). They are not free right? They still consume time and you have to do something to get your pay. And mind to tell me a real case scenario (no bullshit please) how much are those so called full time paid surveyors making? Could it be possible that they are earning less and spending more time than those who are working hard in McDonald's flipping burgers eight hours per day? Maybe they should coin there campaign as "easy money" instead of "free money".
5. One exception: I did notice that there are free money from scholarships, government grants or business grants. And yet, they are still not free. You gotta have something first in order to get these grants right? If you get 10/100 for maths, do you think you will get the engineering scholarship? If you run 45 seconds for 100m sprint, do you think you will get a sportsman scholarship? Try convincing a business partner to sponsor you when you don't even have a business plan or system.
6. Well, when was the only time you can get free money? The day when you were born up till you the day when you finally made up your mind that you will and can earn your own income. But please don't tell me you are 30 when you made this decision. And who are these people? Your parents. Now, go thanks your folks.