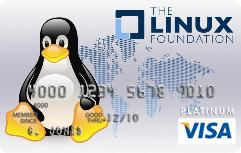 How does having Tux the Linux Penguin sitting on your credit card sounds like?

The Linux Foundation is pleased to offer a Linux-branded affinity credit card for those who want to support the Linux Foundation's activities while expressing their commitment to Linux. The Linux-branded credit card is an easy way for anyone to contribute to the growth of Linux and identify themselves as supporters of the community by carrying Tux in their pocket.

The Linux Foundation is partnering with CardPartner, Inc. to offer the affinity Linux credit card through UMB Bank. For every card activation, the Linux Foundation will receive $50 as well as a percentage of every purchase made with the credit card.

All funds from the Visa card program will go directly toward sponsoring community technical events and providing travel grants for open source community members in order to accelerate Linux innovation.

As a nonprofit organization funded primarily by member dues, the Linux Foundation provides a variety of important services, not the least of which is supporting Linus Torvalds' full-time work on the kernel. The Linux Foundation Visa Platinum credit card allows anyone to contribute to the community by enabling the Foundation to sustain and expand upon its important work.

Linux Foundation-branded Visa Platinum card members can earn bonus points redeemable towards free merchandise, airline tickets, and more at hundreds of online and neighborhood retailers.

Other important card member features include:
No annual fee
0% APR on purchases and balance transfers for the first six months
Purchase protection
Zero liability protection for unauthorized purchases
Emergency cash and card replacement
Lost/stolen card reporting service
24-hour roadside assistance
Warranty manager service
Lost luggage replacement

Initially, the Linux Foundation Visa Platinum card is only available to U.S. residents but will expand in the coming months.
You can read more or apply for the credit card here
I'm very sure that lots of Linux lovers and geeks alike will go for this to show their support for Linux and to act cool at the same time. It doesn't look like a bad deal anyway.
OK, so what's next? A Microsoft Windows Credit Card or Apple Mac Credit Card, anyone?