Feedburner will be releasing adsense for every publisher soon who uses their service to get their feeds published.
In a blog post that announced the news from feedburner
We'll be rolling out AdSense for feeds to a small group of publishers, in anticipation of a full launch to all FeedBurner and AdSense publishers "coming soon". If you start seeing "Ads by Google" on an ad in a feed somewhere, that'd be us.
For publishers who are not yet placing ads in their feeds, any publisher who meets the requirements to join the AdSense program will also be able to use AdSense for feeds. You will be able to manage your feed ad units directly from AdSense Setup tab, and track performance right on the AdSense Report tab. You can slice, dice, mix, or mash your tracking across feed units and content units, or keep them totally separate. You're in control. You can still control the frequency and rules around when ads appear in your feeds, without having to mess with templates on your content management system.
You will need to sign up for AdSense if you haven't already,and you will want to set up your AdSense channels for "placement targeting" in order to make sure that advertisers can target your syndicated content specifically. As a publisher, you will remain be in control of the campaigns that are targeted at your feed by harnessing the power of Ad Review Center.
OK, enough news! Show me something.
Publshers who are already using Feedburner can login into their accout, and go to the Monetize tab. There you will see something like the picture below, which is grey out by default until you tick the checkbox "Display ads from Adsense for Content".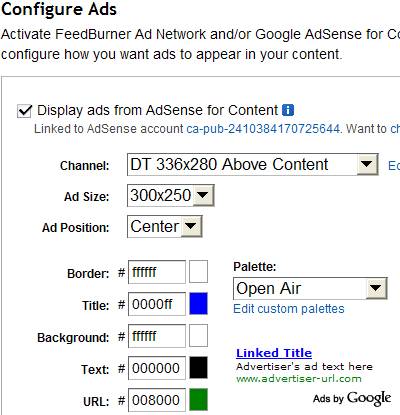 There's only 2 options for the ad size currently which are 300×250 and 468×60.
What will this mean for publisher, advertisers and readers?
1. An extra stream of revenue for publishers. It's still up to the publisher whether to activate adsense in their feeds anyway. If they did, they are greedy! 🙂
2. Advertisers will have an extra channel to advertise on.
3. Readers use to think that feeds are the safest and cleanest place to get news and updated delivered right into their face, which is quite true until now. Readers will either be pissed off since their territory can be potentially intruded by ads or they might cheer for joy since they have something more to click on (Oh, that would really be a publisher's dream come true!), which I don't think will be much the case!