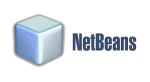 NetBeans IDE 6.9.1 is a minor update to NetBeans IDE 6.9 and includes the following changes:
Availability of the latest IDE bundled with JavaFX SDK 1.3.1
Improvements to the JavaFX debugger
Important usability issues fixed in the JavaFX Composer and Editor
Critical bug fixes made to other modules since the 6.9 final release
The following updates to the 6.8 release included in version 6.9 also apply to 6.9.1:
JavaFX Composer to simplify and visualize JavaFX development
Support for Equinox and Felix OSGi frameworks in NetBeans Platform
Spring Framework 3.0 library support
Java CardTM 3 Connected
Rails 3.0 Beta support
PHP Zend Framework support
Support for JSR-299, Contexts and Dependency Injection (CDI)
Additional Enhancements are listed on the NetBeans IDE 6.9 New and Noteworthy page.
More info and details are available at NetBeans IDE 6.9.1 Release Notes.
I always wanted to know how to upgrade Netbeans in place. Currently, whenever a new version is released, we have to download and install a separate version even if we already have Netbeans installed.
As explained in the FAQ:
Q: Is it possible to upgrade from (for example) NetBeans IDE 6.7.1 to 6.8, or from a beta to a milestone to a final release, using the update center?
A: No, this is not possible. For a new release, you must download a new installer from the download page. http://netbeans.org/downloads/
If someone knows how to upgrade Netbeans +in place, please let me know, thanks.