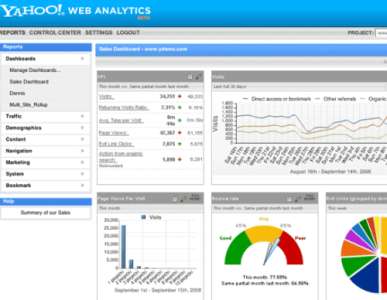 New to the scence of web analytics is Yahoo Web Analytics. Borned from an acquisition of IndexTools, Yahoo! Web Analytics is an enterprise site analytics tool that provides real-time insight into visitor behavior on your website. With powerful and flexible tools and dashboards, Yahoo! Web Analytics helps online marketers and website designers enhance the visitor experience, increase sales and reduce marketing costs.

Yahoo seems to be the latest to enter the web analytics arena. Both Google Analytics and Microsoft Analytics were establsihed early on to track page views, adwords campaigns and adcenter campaigns respectively.
This article also did some comparison between Yahoo Web Analytics and Google Analytics.
… grades Yahoo higher in several areas. For one, it has a larger default monthly page-view limit, 200 million for Yahoo versus five million for Google. Google offers more if you're running an active Google AdWords campaign.

Another key difference is access to traffic data. Unlike Google, Yahoo gives you access to the raw data about Web site, not just the summary reports both offer, and the ability to export that data. Should you choose to migrate to another service, that export feature would let you continue to maintain a historical record instead of starting over.
It's a bit early to judge just how good Yahoo Web Analytics is as it's currently only available to selected parties. From the FAQ:
Yahoo! Web Analytics is currently being offered to Yahoo! Small Business customers who host e-commerce sites with Yahoo!, as well as to advertisers who work with Yahoo! Custom Solutions and Yahoo! Buzz Marketing.

If you are an existing customer of Merchant Solutions Standard or Professional, or a Y! Store merchant, you will automatically have access. Merchant Solutions Starter customers and other members of Yahoo's Small Business solution suite should stay tuned for future opportunities to gain access. Yahoo! also plans to release analytics-enhanced reporting for the Yahoo! developer community very soon.
Nevertheless, Yahoo Web Analytics looks pretty interesting and features such as "Advanced PPC Campaign Management", "Real Time Analytics" and "Live Cost Analysis" would definately provide better insights for marketers and business owners alike.