Firefox closes and relaunches with a set home page by default. This can be a problem for some power users who would prefer to have all active opened tabs saved when firefox is closed, and have all these tabs automatically loaded when firefox is restarted the next time.

Here's how you can do that.
Method 1: Tools Menu
1. Goto Tools > Options > Main
2. Under Startup, select the "when firefox starts" select drop down box. Select "Show my windows and tabs from last time".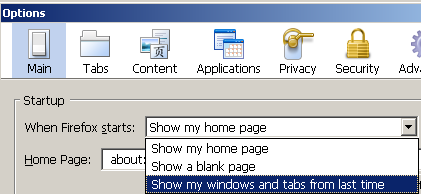 Method 2: about:config
1. Type about:config in Firefox's address bar
2. Set the browser.startup.page to 3
That's it. Now even if you close firefox accidentally and was reading something good or had 10 important tabs opened at that time, simply relaunch firefox and you will get back all your precious tabs again.