To block websites on your home computer without spending lots of money in expensive software, here's a trick for Windows PC.
Step 1: Click the Start button and select Run. Now type the following text in that Run box:
notepad c:\WINDOWS\system32\drivers\etc\hosts
Step 2: Don't panic if you see some weired characters when notepad opens up. Simply goto the last line of the file and stat typing the websites that you want to block, each seperated by a line break (ENTER).
127.0.0.1 orkut.com
127.0.0.1 facebook.com
127.0.0.1 myspace.com
127.0.0.1 sex.com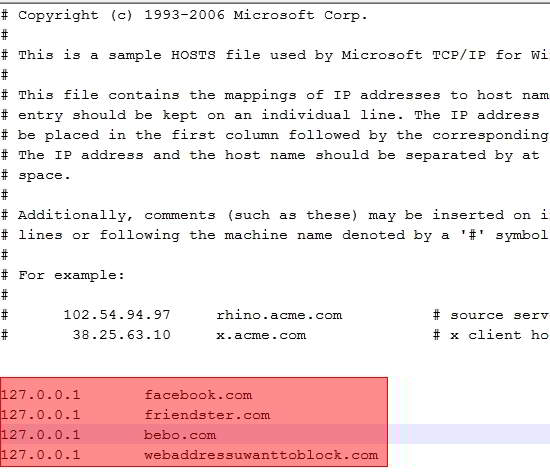 Save the file, exit and you're done. No one will be able to access those sites that you have just blocked using this method. The good thing is you can keep on listing as many offensive sites you want to be blocked.
How to unblock?
If you want to remove the ban later, open the same file as mentioned in Step 1 and delete the above lines.