Also known as user agent spoofing, here are 2 ways to fake Opera's user agent string so that it will identify itself as Internet Explorer or Firefox. There are some sites which are made only for Internet Explorer or simply don't support Opera yet and stop loading when you visit. This annoys me sometimes since Opera is my default browser.

1. Quick Preferences
Goto Tools > Quick Preferences > Edit Site Preferences > Network Tab > Browser Identification
There are 5 options where you can choose from:
1 = Identify as Opera
2 = Identify as Firefox
3 = Identify as Internet Explorer
4 = Mask as Firefox (Opera not mentioned in user agent string)
5 = Mask as Internet Explorer (Opera not mentioned in user agent string)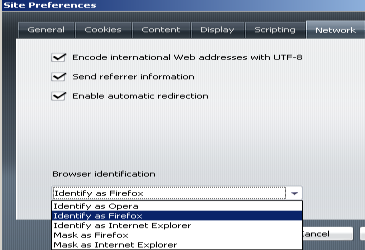 2. opera:config
– Type opera:config in the Opera address bar and press ENTER
– Type Spoof UserAgent ID in the text-box next to Show All
– Change the "Spoof User Agent ID to any one of these supported user agent string:
Again, there are only 5 options. Enter a number from 1 to 5 (refer to the list above), and press save.

As you can see, you can spoof Opera user agent string easily using either one of the method above. Note that there is currently no Safari or Chrome user agent spoofing in Opera yet since Internet Explorer and Firefox are understandably the 2 internet browsers with the largest users worldwide.