I enjoyed reading this article titled "Our Electric Future" written by former Intel CEO Andy Grove, where he discusssed several issues with fossil fuels, its importance in our daily lives, why American presidents all failed the same goal and what alternatives solutions that can be used to replace fossil fuels.
Out of all alternatives, it seems that electricty is the best source as Andy refers to it as the only source that is "sticky" – it can only be transfered over land and thus remains on the continent on where it is produced.

Transportation remains the main sector which consumes the most amount of fossil fuel. It's really a good idea to shift all transportation to run on electricity. But the major problems are, as with every new technology: fundings, politics, timing, production and adaptation (transition). Hybrid vehicles are a good start into that direction anyway.
But this can lead into other issues: What can we use to generate electricty once there's a spike in demand for electricity? More coal and fossil fuel is definately not the answer. Power generation through Uranium is still a debatable subject and Australia, for example, has obviously no plans to build any in the near future although the country contains huge reserves of this mineral and does mine it for export.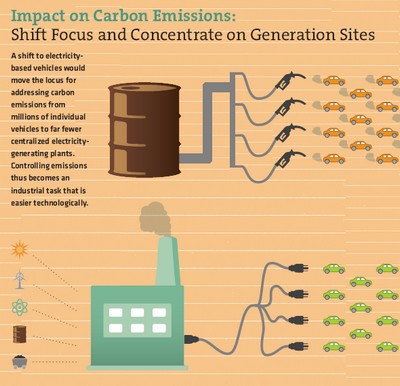 In my opinion, the solution in the long term is:
We need more renewable energy.
But then again, renewable energy has its own limitation too. A 1000-megawatt nuclear power station would require less than one square kilometre of land to generate power. To produce the same amount of electricity, solar cells would need to cover 50 – 60 square kilometres.
Other renewable energy sources such as solar, wind, hydro-electricity and geothermal has their own problems and challenges to face as noted here.
It's no doubt that humans are dealing with a challenging situation here when it comes to power and energy, and we are yet to find a perfect solution.