Logging into Google Analytics and pressing tabs, links, and filters to view the stats you're interested in can be a pain if you have manage several web properties. Previously, there was a similar google analytics adobe air application but unfortunately it's now unavailable and it wasn't working anyway. If you've wished for something easier just to get the unique visitors, pageviews, bounce rate etc from all your websites without a lot of manual clicking, you've got it now.

Features of Trakkboard – Google Analytics on Desktop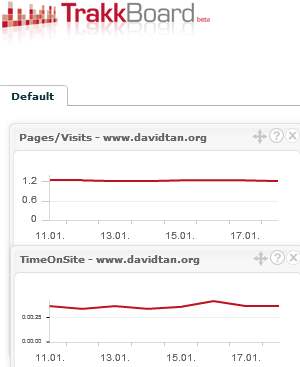 With Trakkboard, it all becomes easier.
– Trakkboard enables the compilation of reports of different websites without logging in at Google Analytics.
– You can compare data of different accounts, websites and profiles without permanently changing sites at Google Analytics
– You have the opportunity to compile individually and from different portals and websites all the key performance indicators which are of a certain importance for you on just one dashboard.
– By means of tabs, you can create as many dashboards as you want and you can arrange the data individually
– You can follow current developments on your desktop or you can lock certain data from changes to have them available at all times
– With just one click, you can switch between the display formats, change time spans or rearrange data.
– Best of all, you are now able to summarize the most important key performance indicators on just one dashboard.
Now, that's a big time saver if you ask me!
* Note that Trakkboard is an adobe air application and you will need to install adobe air before installing Trakkboard.