Make sure you read this before choosing which web hosts you're going to host your websites with. The following web hosting providers are all offering unlimited domains, disk space plus bandwidth, cheap setup costs and even money back guarantee!
HostGator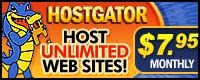 HostGator is one of the world's top 10 largest web hosting companies with more than 2,500,000 hosted domains. Every web hosting plan comes with a 45 day money back guarantee,99.9% uptime guarantee, and is fully guaranteed by the owner himself. The Baby Plan allows you to host unlimited domains, disk space, bandwidth plus a shared SSL Certificate starting at only $7.95/month.
* This website is currently hosted with Hostgator and serves 5K of visitors daily without any problems at all. Hostgator is a highly recommended web host!
More details: Click Here
---
IX Webhosting
So you want not only the best support, but also 99.9% guaranteed uptime and a free web domain? IX Webhosting is currently running a promotion to offer you not 1 but 3 free domains with their Unlimited Pro Hosting Plan, which includes the following features:
Unlimited Disk Space
Unlimited Bandwidth
Unlimited Domains Hosted
15 Dedicated IP Addresses
3 Free Domain Registrations
Free 24/7 Support
Free Online Web Editor
Only $7.95/month!
More details: Click Here
---
Bluehost
Hosting with Bluehost gives you unlimited hosting space, unlimited file transfer bandwidth, host unlimited domains, plus:
– 2,500 POP/Imap Email Accounts
– SSH, SSL, FTP, CGI, Ruby (RoR), Perl, PHP, MySQL
– 2000/2002 Front Page Extensions
– Free Domain Forever!
– Free Site Builder
– 24/7 Superb/Responsive Sales/Support
More details: Click Here
---
JustHost
Justhost is the cheapest web hosting provider that you can get out there currently at $3.45/month, offering the following features:
– FREE Domain For Life & FREE Instant Setup
– No Hidden Fees
– Unlimited GB's of Web Space
– Unlimited GB's of Transfer
– Unlimited Domain Hosting
– Unlimited E-Mail Accounts
– Unlimited MySQL Databases
– SSL, FTP, Stats CGI, Ruby (RoR), Perl, PHP, MySQL
More details: Click Here